Creativity & Culture
May 09
"I like art, and by art I mean music, poetry, sex, paintings, the human body, literature. All of this is art to me." — Hunter Reveur.
(Source: contramonte, via jazzyfactry)
May 06
Art Exploration Reflection #3: Result
When the day came to share my poem I was nervous it wouldn't be good enough. I write stories and poems but for my eyes only. When I wrote this poem I did have to be convinced it was good enough to share. I read it to a friend of mine. She told me it could use some tweaking and she thought it was really good.
I was glad to know that she also thought that even though she had no clue what Burning Man was she had gotten the basic information she needed & it was something that interested her.
In class I was able to share this poem and the one thing I felt was relief and accomplishment.
Art Exploration Reflection #2: Creation
For one to write a good poem I believe it takes a lot of dedication and an open mind. For me writing doesn't take too long as long as I am willing to let the words flow. Doing things ahead makes me feel jobless and drag it on for days.
 The first real step to the project was to decide what direction I wanted the poem to go. What details will I have to include. I started to write down basic ideas and facts that needed to be include. Location, relationship, community, structure, purpose.All these had to be characteristics of my poem. It had to talk about these points. They all complimented the culture that is Burning Man.
With a solid foundation of information based on what we learnt from author Lee Gilmore in the book I was able to make a very simple poem. My next step was to begin to just write and edit and made sure it flowed. When I began to see the direction it was going I just became absorbed in what I was doing and at the end had a poem to share.
May 05
Art Exploration Reflection #1: Preparation
A new fascination that I became interested with this past year was festivals. Festivals of all kinds. From music festivals to art festivals to cultural festivals of all kinds. My dream is to go to as many festivals as I possibly can. This was a decision I started making with a friend. She was a student at Kansas State University who now goes to art school in California. This is one of just a few dreams we share. One of the festivals we decided we would love to go to was Burning Man.
We had decisive discussions on it and this semester when I got into my Creativity & Culture class something that stood out for me was the fact we will be reading Theater In A Crowded Fire. This book was an interesting choice and gives a glance into the world that has it's own culture. When we were told we would have to create a portfolio I knew it was going to involve Burning Man. I was thinking about writing a short fiction story about Burning Man based off the experiences of friends that had been to the festival.
There wasn't always a lot of time to fit that in due to my tight schedule. I decided to instead write a poem on this different culture. The poem was going to simply be a collection of what I learnt.
May 04
Lisle Alderton
Lisle Alderton is a local photojournalist who resides both in Manhattan and the Chicago area. He is an industrial engineering major at Kansas State University and he takes pictures for The Collegian.
From May 2-16 he displays a collection of his photographs at the K-State Union art gallery. You can check out more of his work here.
Beach Museum Piece; Pyrro Techniko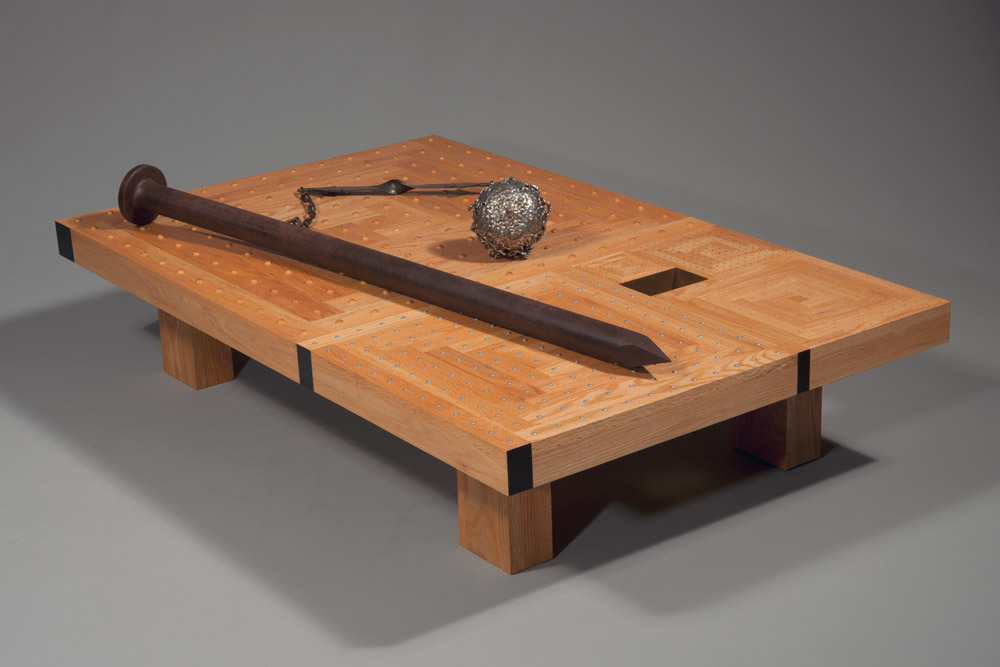 I went over to the Beach Museum to check out a few of their art pieces. The one art piece I think that spoke to me was a piece called Pyrro Techniko by John L. Vogt in 1989. It was gifted to KSU by his wife & Jamie Kitch after his death in 2009.
The art piece is a stricture made of wood and  steel. It is a wooden structure with an interesting surface with a huge nail connected to a steel chain that has an oval metal object at it's end. It looks like a metal whip, but it was a really hard object to decipher. It was difficult to tell exactly what the artist was trying to say through this piece, but it was still interesting.
The most fascinating part of the piece was actually in between the steel chain that connected both pieces. There was an arrow with this quote carved in; "Nothing is in itself more this than that." I am still trying to figure out exactly what he meant, but for me I saw this as an interesting quote.
Art Exploration; Poem About Burning Man
Whenever I envision space
I tend to think of this place
A place that seems to have no end
A place that goes on for days
Man was created to birth ideas
The Black Rock of Nevada gives home to these ideas
They say to themselves
Let us turn these ideas to reality
Let us set them all ablaze
That the scent of their burning may inspire more ideas
That the smoke that ascends will inspire on for days
The people are happy
They are finally home
Their home is burning from a source not unknown
They dance in circles
They jump around
They now have brothers they never knew
Sisters as beautiful as the moon
They are family
Regardless of what you say
They now share a bond
They are tied together by art
They say to themselves
Let us build ourselves a figure
Let it represent our pain
& our regrets & our shame
And we will burn it down
And let go of it all
'Cuz come tomorrow it will all be over
We will be back where the world has put us
In those business suits or those rigid boots
And the countdown will restart
To another moment they can come back here
To this place that is now home
May 03
Are Talent Shows Now The Only Way?
From American Idol to The Voice to the X-Factor down to The Sing-Off, we have multiple shows that now determine the skill set of different artists in seconds. It has become really hard for truly skilled artists to get the opportunity they deserve so now they have to compete for it.
The one thing about these competitions is that they have become the open door for every Tom, Dick & Harry to become famous. The climb to success has become a competition. Everyone is struggling to win this grand prize that puts them in a position to improve their skills and record music.
The one problem with these talent shows is that they forget that for the art of music, there are different styles. What looks good from one artist may be horrible from another. You can't compete to determine who is the better act. No one's art product is the same.
May 02
The Draw of Music Festivals
My friend and I were thinking about making a decision that will be as life-changing as possible. We want to get out to as many music festivals as possible. This then got me thinking. What is the draw to these festivals.
Music festivals play a huge part in building the music industry reach. From Coachella to SXSW to Bonnaroo to Country Stampede to Wakarusa right down to Lollapalooza they all promote up and coming musicians as well as better the music industry.
They all do have one bigger thing in common. They bring strangers together. Music has always been a huge force to me but the biggest thing about music is the fact that it brings people together. Music builds community at these festivals.
The community that these people lack in their day to day lives is provided to them at these festivals. They make a bigger family. This is what draws people to music festivals; community.
Music Meets Reality TV
Lately it is more than likely for you to turn on your TV and see a musician on your screen doing something besides singing or interviews. In more recent times you see these artists on reality shows.
We see a different side to the artists. Although fascinating, sometimes it turns out all good, other times not so much. We see a more personal aspect of their lives.
From watching artists like Mary Mary, Brett Michaels, Ozzy Ozbourne, Gene Simmons, Toni Braxton & Rev. Run take on reality TV shows you see how it can go either way.
At the end of the day, there is always a price to pay for fame and success. These ones pay by exposing themselves to the world's constant gaze.